Kiana Gibson
Meet Kiana Gibson: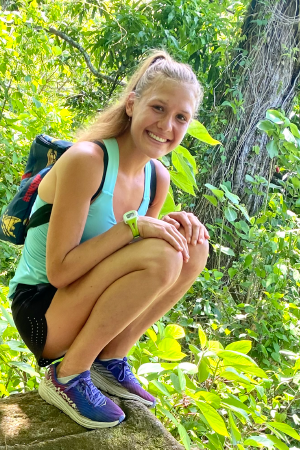 About Kiana
Kiana Gibson is a fifth year Bachelor of Arts & Science student at the University of Guelph, studying International Development and Nutritional Science. Kiana has participated in experiential learning courses including HIST*3240: Food History, and IDEV*3330: Engaging in Development Practice. In each course, she was able to complete research that was meaningful to her, and to apply that knowledge to a real-world situation. In HIST*3240, she had the opportunity to showcase her research about a cookbook from rural Canada in a virtual exhibition through the University of Guelph McLaughlin Library with her classmates. In IDEV*3330, she presented her research on best strategies for improving representation of women in the media sector to a community partner, Farm Radio International. Kiana shares her experiences in both experiential learning courses, and what experiential learning means to her.
Tell us about your experience in HIST*3240. What was your role in this course as a student?
"In HIST*3240 each student picked a cookbook from rural Canada and was tasked with making a virtual exhibit about it. This required us to take a deep dive into the history behind our cookbooks: who the authors were, the cultural influence reflected in the recipes, and the technology available at the time, and political or social events that may have shaped publishing (for example, wartime rationing or fat-free fads). I truly felt like a detective in this course; I was responsible for my own book and was motivated to do extensive research to ensure I properly represented it through the exhibit."
How was your interest in the contents of the book you researched activated or amplified throughout the course?
"My interest in my cookbook was amplified immensely by trying to understand why certain recipes or ingredients were used. For example, I noticed that most dessert recipes lacked fresh fruit - instead using preserved, dried, or canned fruit. I realized this reflected a lack of globalized markets, where tropical fruits like mango or pineapple are now available year-round in Canada. Also, I learned that recipes such as fig pudding or finnan haddie (a dish made with smoked haddock) have origins in Scotland, which demonstrated the influence of European immigrants in Canada at the time." 
What was your biggest takeaway from this course? 
"My biggest takeaway from this course is how cookbooks are so much more than a collection of recipes! They provide fascinating insights into the happenings of society at the time. For example, I searched the 1911 Canadian census database to track down women who contributed recipes to my cookbook, and learned about their families, jobs, income, and ethnicity. My book is from Bridgewater, Nova Scotia, so I learned about the bustling fishing industry that influenced many of the seafood recipes. I also came to appreciate the importance of church groups for women's empowerment, community building, and contributions to the war effort through money raised from cookbook distribution. I will forever look at cookbooks in a new way - as a portal to the culture, history, food, and stories of those who created it!"
Tell us about the IDEV*3330 course you took part in! What did you do in this course? 
"IDEV*3330 gave me and my classmates the unique opportunity to work with Farm Radio International (FRI), a world-renowned non-profit organization that improves radio accessibility in African countries. Our class was divided into small groups, and we were assigned a research question that FRI wanted more information about. For example, my group addressed the question: 'What are strategies to improve the representation of women in radio?'"
What was it like to work with a community partner on a real-world project during your undergrad?
"Working with a community partner on a real-world project was humbling, challenging, and very gratifying. It was humbling to observe FRI employees talk about the breadth and successes of their projects on such a wide scale. It was challenging to take knowledge that I've learned in university and consider how it can be applied in real life, with real people, and appreciate all the complicated and intricate realities of development in action. It was gratifying to know that FRI took the time to listen to the insights of undergraduate students with strong research skills, understanding that some of our input could have legitimate downstream effects."
What was your favourite part of this course? What was the most challenging?
"My favourite part about the course was presenting our research findings to FRI at the end of the semester. After spending weeks on end sifting through academic literature, we compiled the best strategies we could find on improving representation of women in the media sector. Being able to share these insights, knowing that our final product was useful beyond a mark on our transcript, was really special. The most challenging part was working in a group in a virtual setting. This was one of the largest, most collaborative group projects I've ever done, which required extensive communication, honesty, and coordination with my other group members, none of whom I've ever met in person. But we did it and came out stronger at the end!"
What does Experiential Learning mean to you?
"To me, Experiential Learning is learning that goes beyond the classroom. It is the feeling that I'm learning something not just for the sake of a multiple-choice question on an exam, but to apply in real life. It is new ways of thinking, complex real-world challenges, interdisciplinary approaches, and extensive teamwork. Both HIST*3240 and IDEV*3330 provided me with education so rich and engaging that I hope every student seeks out opportunities like this."
Is there anything else you'd like to add?
"These courses wouldn't be possible without professors who are committed to the idea of Experiential Learning and the value it brings to students. As such, I have to extend a huge thank you to Professor Beausaert and Professor Paras for their efforts to design, prepare, and deliver such a unique class to their students. We appreciate all your hard work!"