Emma Scott
Meet Emma Scott: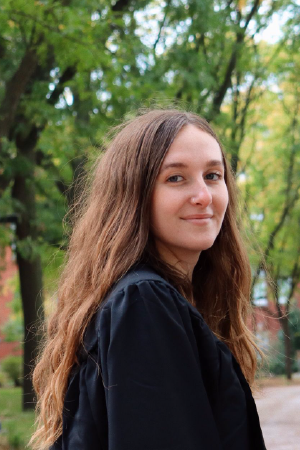 About Emma
Emma Scott is a successful GAAP (Guelph Arts Apprenticeship Program) candidate from last year's cohort, having secured a job as a Content Writer & Email Marketing Specialist at Merged Media after graduating in 2021 from the University of Guelph with a Bachelor of Arts degree, major in English. Emma tells us about the GAAP preparation and interview process, what she has taken away from the process, and insights on Arts graduates' contributions to the working world.
What was the GAAP process like for you? 
"The GAAP process was relatively easy and stress-free. When job postings opened, the career advisors helped me tailor my resume and cover letter to the jobs I was interested in. The career advisors coached me on interview skills, and they checked in with me before and after my interviews. It was a relatively easy process."
What was the most helpful thing that you have taken away from GAAP?
"The most helpful thing that I have taken away from GAAP is the S.T.A.R. method. It is a great way to show your skills and experience in interviews.  When an interviewer asks a question about your past projects or work history, answer by explaining the Situation, the Task you were posed, your course of Action, and the end Results."
What do you do at Merged Media? 
"I am a Content Writer and an Email Marketing Specialist at Merged Media. I write content for B2B and B2C clients' websites, blogs, Facebook ads, and emails. My work helps guide leads through the buyer's journey by increasing their awareness of a product or service then convincing them to purchase."
What's your favourite part about this job?
"I love being able to be creative every day. While there are certain guidelines I need to follow and keywords I need to use, I get to be creative when it comes to writing content and coming up with email topics. It makes work fun!"
What do you think you contribute to the work world as an Arts graduate? 
"I think Arts graduates contribute a lot to the workforce. Many employers need their staff to think critically, empathize with others, and adapt quickly. This is especially true for the marketing industry. Arts graduates have perfected these skills throughout their studies and can use them to solve complex problems, relate to customers and clients, and pivot quickly."
What would your advice be to anyone considering registering for GAAP?
"I would recommend anyone considering registering for GAAP to register and take advantage of the resources available. The University of Guelph's Experiential Learning Hub has many helpful workshops to help you write a resume or prepare for an interview. I found that one-on-one meetings with a Career Advisor were especially helpful during the application process."
To learn more about GAAP (Guelph Arts Apprenticeship Program) and to register, visit the GAAP Website.